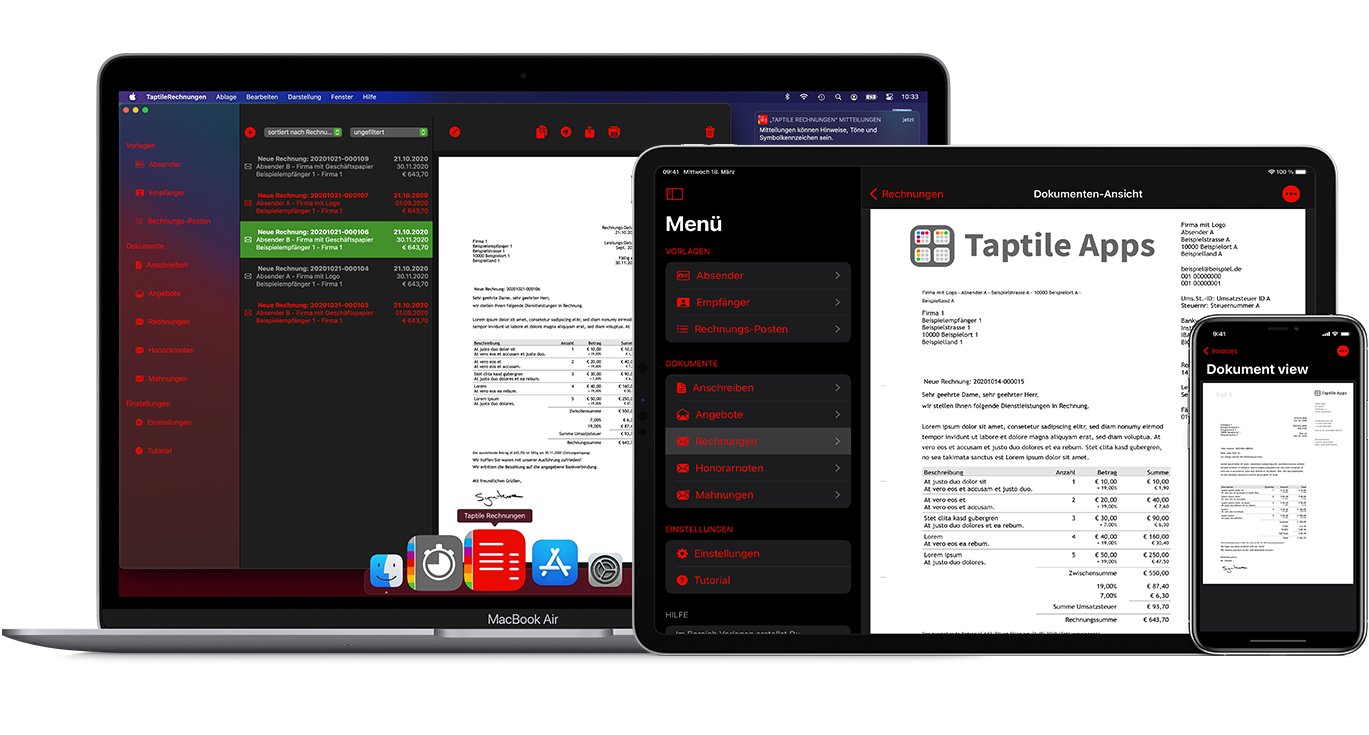 With our app "Taptile Invoices 2", you can easily create and manage invoices, offers, letters and reminders that are clear and elegant locally on your iPhone, iPad or Mac.
If you want to edit your documents on your iOS devices on the road and have them with you, you can use the iCloud synchronization and the iOS app.




You don't have to trust your data with any cloud provider!
All data remains locally on your devices!
No monthly subscription, pay only one in-app purchase to use the app!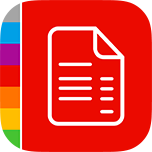 The free macOS version for testing
one in-app purchase for
full functionality.
Purchase
Compatible with macOS
Big Sur (11.0)

For Mojave (10.14) and Catalina (10.15)
see Taptile Invoices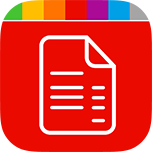 The free iOS version for testing
one in-app purchase for
full functionality.

Download
Compatible with iOS 14





At the top 5 business apps in macOS AppStore:
Germany, Austria and Switzerland
"Taptile Invoices 2" supports:

- cover letters, offers, invoices, royalty notes and reminders
- uniform, professional design for all your documents
- any number of invoice item templates
- any number of document invoice items
- automatic amount accumulation
- percentage discounts or surcharges
- special payment date discount calculation and expulsion on the invoice
- net and gross amounts, variable VAT percentages
- Invoices with several VAT percentages in one document
- invoices in different currencies
- Totals in swiff Francs (CHF) will be rounded automatically
- recipient address management
- sender address management
- address import from the contacts of your device for macOS and iOS
- sender with your logo and your signature
- sender tax number and / or sales tax ID
- bank account details
- free subject, salutation and text
- free offer, invoice and dunning text above and below the individual items
- document, delivery, due date and incoming payment date
- document state management (draft, sent, due, completed / paid)
- notifications on due offers, invoices and reminders
- invoice duplicates to simplify the creation of similar invoices and reminders
- three different layouts (header, footer, sidebar)
- your own business background paper
- iCloud Synchronization on all your iOS and macOS devices
- PDF file export
- direct printing on printers



For whom is Taptile Invoices 2 suitable?

The app Taptile Invoices 2 is designed for individuals, self-employees, freelancers, craftsmen and other small business owners. The app does not offer any connection to CRM, merchandise management systems, customer administration or even SAP / Oracle. But you can create your own templates for invoice items, something like your item masters, e.g.


Can I have different VAT rates for different invoice items?

Yes, new in Taptile Invoices 2, our app can show several VAT rates in one invoice.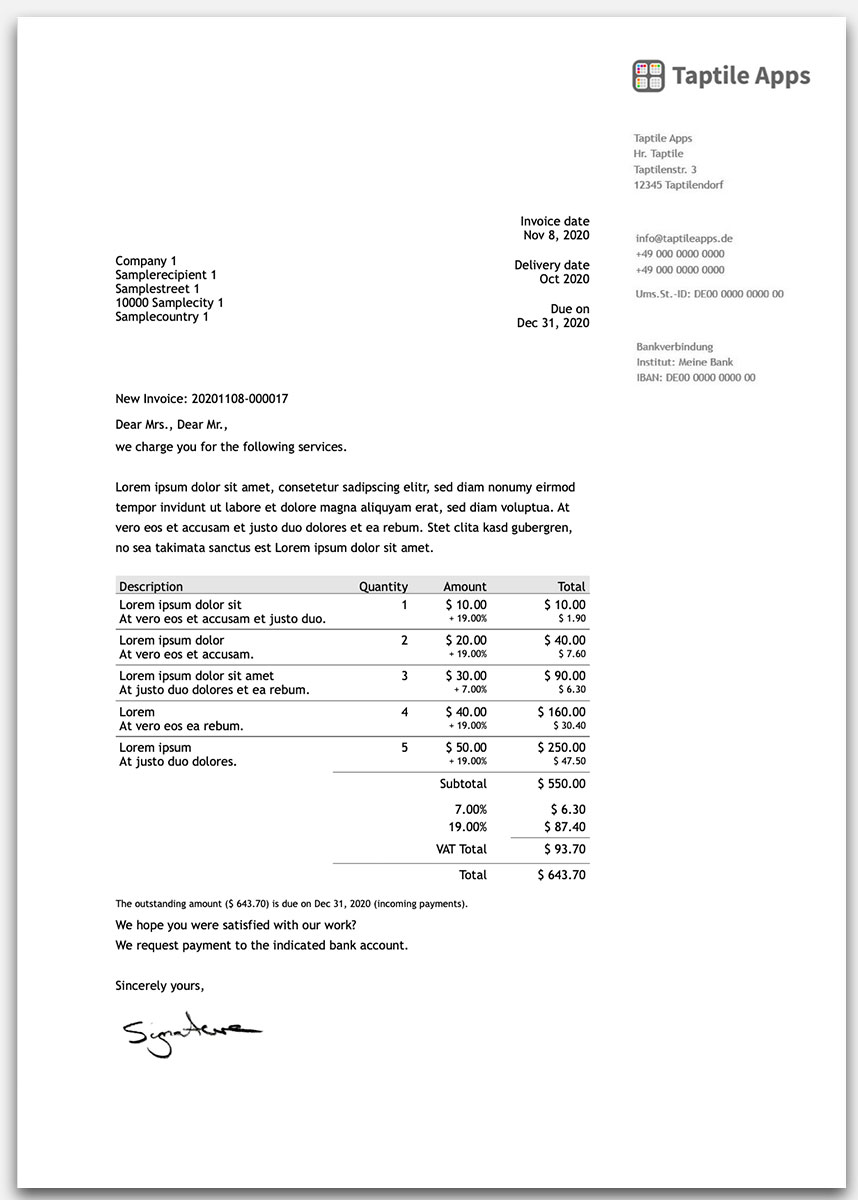 Can I use "Taptile Invoices" and "Taptile Invoices 2" together?

Yes, you can use our first app "Taptile Invoices" on macOS and "Taptile Invoices 2" on iOS. Both apps can synchronize your data via iCloud.
Only the new functions, such as invoice item templates, multiple VAT rates or CHF rounding aren't available in the old app.
However, if you create the documents in "Taptile Invoice 2" and set the finished documents to 'sent', the PDFs generated with the new app will also be synchronized into the old app and you will have access to these.


Can I use "Taptile Timetracking 3" and "Taptile Invoices 2" together?

Yes, you can import your working hours from our app "Taptile Timetracking 3" as an invoice item on macOS.
This means that you have quickly created a perfect invoice with just a few button clicks.


Can I influence the appearance of the invoice?

Yes, we offer three different layouts, which, among other things, output your contact information either in a header, footer or sidebar.
In addition, you can include your company logo and your signature in the invoice. Simply drag your logo or signature image file into the sender information and they appear on your invoice.
If that is not enough for you, you can include a business background wallpaper, where you can place your own design. This can be hidden for print, when you are using preprinted paper.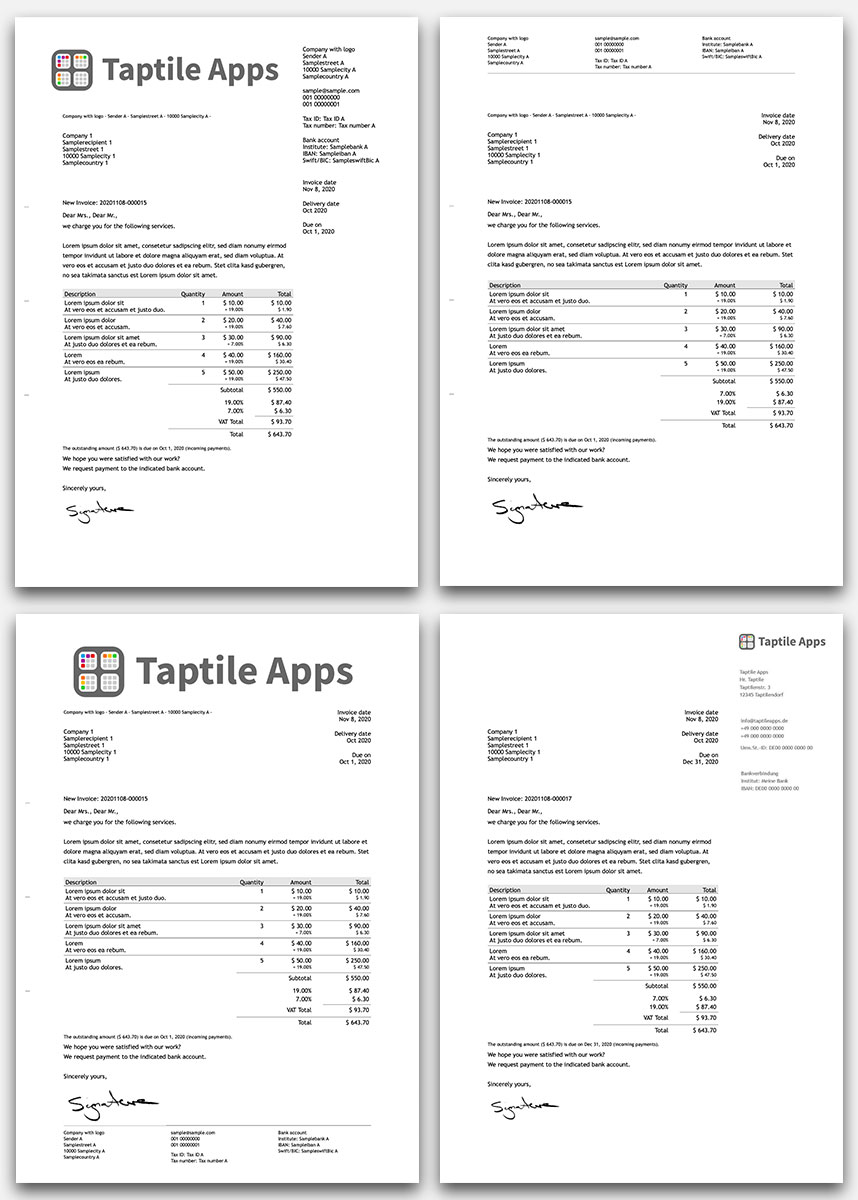 Can I include my signature in the invoice?

Yes, you can also easily include your signature as an image file.



Do you have any questions or suggestions?

We are looking forward to your email: help at taptileapps . com